NATIONAL LAUNCH IN BRAZIL OF PUBLICATIONS AND REGIONAL PLATFORM A2.O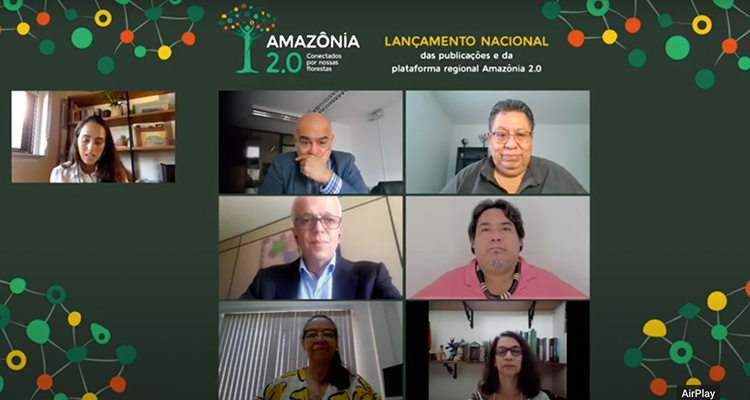 On September 21st the National Launching of the Amazonia 2.0 Regional Platform (A2.0) and the Presentation of the project's Regional and National Publications took place in two sessions.
The first session, held at 11am, was marked by the official National Launching Ceremony of the Platform. A protocol event with the presence of key actors of the initiative, including Gabriel Quijandría, Regional Director of IUCN-South America and Stefan Agne, Head of Cooperation of the Delegation of the European Union in Brazil.
Also participating were Elcio Toya Manchineri, Political Advisor to the Coordination of Indigenous Nations of the Brazilian Amazon (COIAB) and Coordinator of the Coordination of Indigenous Organizations of the Amazon Basin (COICA), Vera Reis Brown, Executive Director of the Acre State Secretariat for the Environment and Indigenous Policies (SEMAPI-AC) and Vera Olinda Sena de Paiva, Executive Secretary of the Pro-Indio Commission of Acre (CPI-Acre). It also included a presentation on the Amazonia 2.0 project by Braulio Buendía, Amazonia 2.0 Regional Coordinator.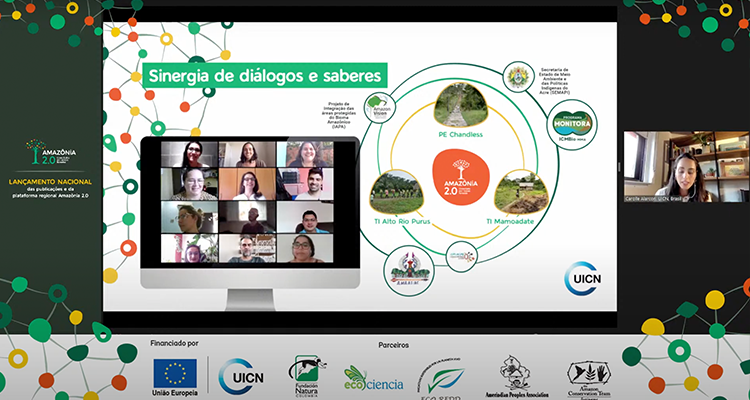 In the second session, held at 2pm, the main regional and national publications of the project were presented. Andrea Cucalon, Amazonia 2.0 Technical Officer, provided an overview of the regional publications about to be published and Carolle Alarcon, Amazonia 2.0 National Technical Coordinator in Brazil, together with the national consultants Luiz Henrique Medeiros Borges, Auá Mendes and Viviane Junqueira, presented the results of the project's main national publications. The technical session also included the presentation of Geoviewer, one of the platform's technological tools, which allows visualizing the dynamics of the geospatial information of A2.0 project's intervention areas on a variety of topics. The presentation was followed by a live demonstration of the tool, both led by Alejandro Imbach, project's regional strategic consultant.
With a total of 173 participants, the launch was broadcast simultaneously in Portuguese and Spanish and brought together a diversity of representatives, supporters, and participants of the project, among governments, NGOs, civil society in a space of dissemination and visibility of the tools, publications and contributions of the project to strengthen local territorial governance.
The Amazonia 2.0 Regional Platform brings together social and technological components, which are open to use by the wider public, and integrates the project's implementation methodology, which we hope can be replicated, scaled up and used by different actors. Recordings of the launch are available on the links below. Also available are seven video tutorials that guide the use of the platform.
Session 1: Portuguese and Spanish. Session 2: Portuguese and Spanish.